On Friday a bus load of some of the finest independent bloggers from around the world in the storage and virtualization space arrived bright and early at the M8trix casino in San Jose. No, they didn't come for the riveting card games and prime rib buffet. Organized by independent analyst Steven Foskett, these delegates of his Tech Field Day came to have a conversation about none other than this lil' smokin hot startup defining the software-defined storage space.
With an introduction from the VP of marketing Howard Ting, former Palo Alto Networks dynamo, CEO Dheeraj Pandey kicked the day off with high level overview of the company and its vision for the future of the datacenter. He reflected on the last ten years and took a look into the data centers of Internet hard hitters like Facebook, Amazon, and Google. They questioned the purpose of bringing data to compute, only to analyze and then bring it right back to the storage again. Instead, they brought compute and storage together and were able to create incredibly scalable datacenters. Most recently we're seeing VMware, who built its business on external storage arrays, talking about a very similar software-defined datacenter strategy; a vision where the enterprise datacenter is flat, symmetric, and homogeneous: "computer rooms running commodity servers with all datacenter services running in software".
This is a major pillar of Nutanix. We believe that what happened in cloud data centers will happen to the enterprise.
Storage is the final frontier and we are bringing the software-defined datacenter to the masses.
Hear what Dheeraj had to say: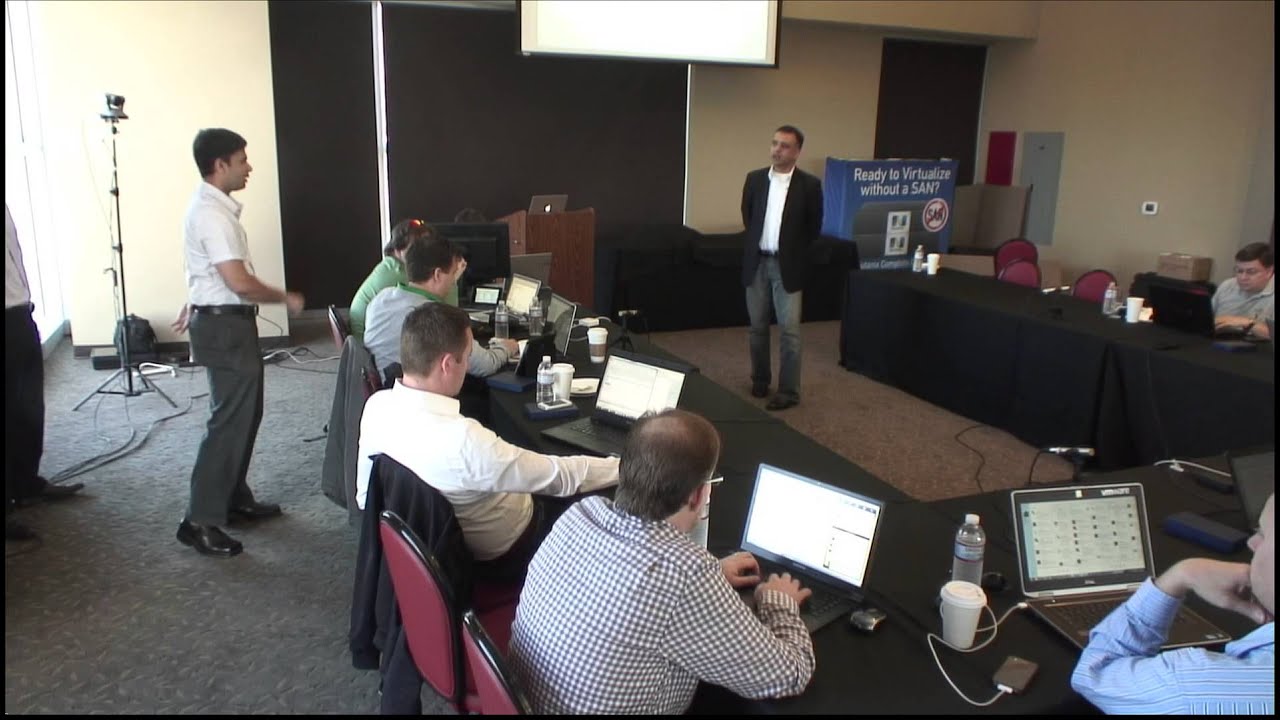 Test Title
Mohit Aron, CTO and cofounder, got into the technical nitty gritty and announced some exciting new product news to the delegates. Take a look for yourself:
Mohit Aron, CTO and cofounder, got into the technical nitty gritty and announced some exciting new product news to the delegates. Take a look for yourself:
In true rifleman form, nobody would have accused Howard Marks of taking it easy on Mohit and Dheeraj.  This sparked some great conversations, one topic surfaced and subsequently got to the root of a question that some of the delegates had about the IOPs we deliver.
Why only 30K IOPs when we're running PCI-e direct attached flash? Show us a system that delivers 30K IOPS in a 2U with snapshots, clones, DR, compression, checksums, triple-replicated metadata, single-namespace distributed file system with 48 cores left for your compute (applications).
Steve Poitras brought the day home with a seriously slick demo illustrating all of the capabilities we've been talking about.  He deployed a new, from factory, Nutanix block (4 nodes), configured storage and exposed it to ESXi hosts, provisioned a 400 desktop View pool while running a Hadoop job  and dynamically scaled out the cluster from 4 nodes to 8 nodes…all in 15 minutes. Yes 15, as in FIFTEEN minutes.   Have you ever seen this on a Flexpod or Vblock demo… live?  We haven't.  I was sitting right there and I'm not shy to say that there were wide eyes and dilated pupils.  With the N control model, Steve was able to scale and double the capacity in under a minute.  Talk about time-to-market and speed-to-value.